Routing Mode¶
This manual describes how to activate and configure the Routing Mode on the IACBOX.
Hint
Clients on the IACBOX can only be identified by their IP addresses.

The Plug & Play will only work in the local broadcast domain of the IACBOX, not via routes.

DHCP must be done by the management network devices in the Surf-LAN, e.g. routers or access points.

This enables you to create different DHCP ranges in the Surf-LAN, but therefore routes must be added on the IACBOX and on the management network devices in the Surf-LAN.
General¶
While the Routing Mode is mostly used in centralized enterprise environments, customer requirements for different networks with DHCP ranges can also be implemented with it.
The Routing Mode can be activated during the installation of the IACBOX. This can be done while configuring the Surf-LAN network settings. Therefore select the option Downgrade to routing mode and confirm this change by selecting Accept before you continue with the installation.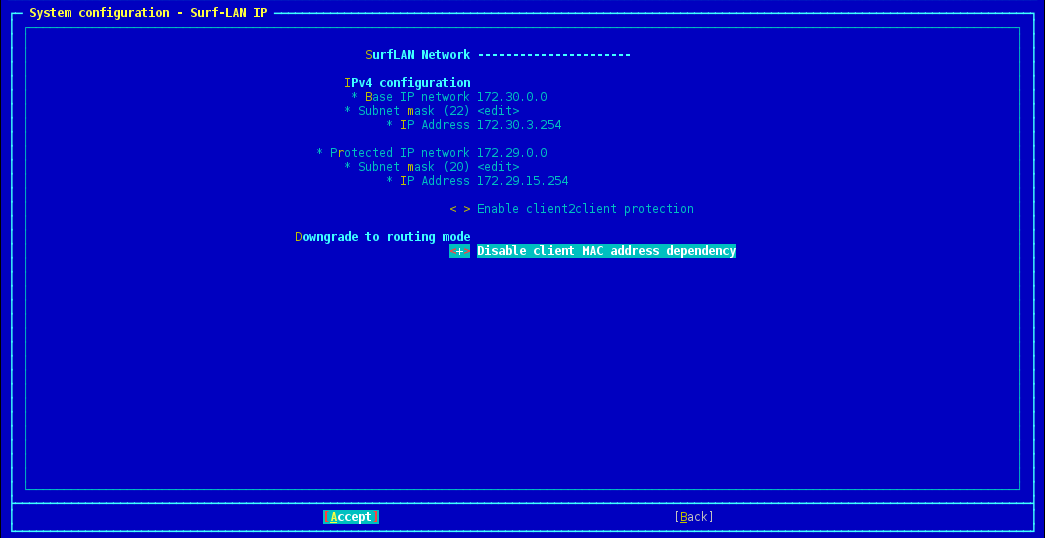 After successful installation, the routes for the Surf-LAN must be configured manually. Switch to the WebAdmin menu Network / Routes and activate the Advanced Routing. Now routes for the Surf-LAN can be configured - an example is shown below.

Here you can see three Surf-LAN routes that have been created. For each route certain settings like Logon Mode, Free Login, Web Filter Settings, etc. can be performed. In addition, individual ticket templates can be enabled or disabled for certain routes by editing the corresponding ticket templates in the WebAdmin menu Users/Tickets / Templates.
The following example shows a network infrastructure with 2 different Surf-LAN routes. Each route must be configured on the IACBOX and on the according access point, a Route back to the IACBOX. Each access point routes to an own network (172.16.0.0/24, 172.16.1.0/24). Since the DHCP of the IACBOX can not reach clients befind the access points, the DHCP handshake must be performed by them.