Central Services¶
This manual describes how to configure and use the module Central Services.
Hint
In order to use the module Central Services, it must be licensed separately.

The Central Services and Remote Access will still work after the maintenance of a license is expired.

Port 1194 TCP/UDP must be opened for outgoing connections on the firewall.
The module Central Services includes a set of functions for centralized management of distributed IACBOX systems. This way administrators can remotely access the IACBOX WebAdmin interface via the my.iacbox Partner Portal and manage the system. The included Central Services functions are extended continuously. The module Central Services is available with IACBOX version 3.10.4200 or newer.
WebAdmin Configuration¶
Switch to the menu System / Central Services at the WebAdmin site and activate the service to connect to the Central Server.

As soon as the service has been started, a VPN connection to the Central Server will be established. The remote access via my.iacbox Partner Portal is only allowed once the option Remote Access is activated.
Management via my.iacbox¶
Log in to the my.iacbox Partner Portal and switch to the menu Shop / Licenses to obtain a listing of all of your associated licenses.

For licenses with activated Central Services the appropriate icon can be found in the services column. A grey icon means that there is no connection to the Central Server.
Right click on the license and then click on Remote Access. A new browser window opens and you will be connected directly to the WebAdmin interface of the corresponding IACBOX. Or you can also access the Central Services menu and establish a connection from there.
Now you can manage the IACBOX system via WebAdmin site as usual.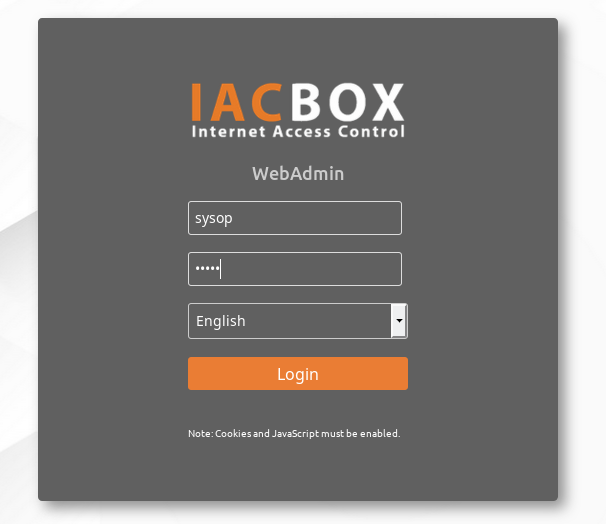 New in version v17.0: Single-Sign-On (SSO) is now supported - you don't have to log in on the IACBOX again. This feature is enabled for all my.iacbox users in the group Technical staff or for any user you want to (just email us).