Installation on KVM¶
This manual describes how to install the IACBOX in a KVM-based environment. For demonstration purposes Proxmox VE is used in this manual. Competing products such as Redhat Enterprise Server / CentOS, SuSE Enterprise Server / OpenSUSE are also supported and tested.
Attention
The kernel version needs to be > 3.2 which is provided since IACBOX version 4.0. If an older version is used, please reinstall with a current install image.
Hint
This Proxmox VE demonstration uses Proxmox VE Version 4.4.
It is crucial to utilize the virtio-block device as a base for virtualized IACBOX hard drives, best performance results can be achieved with it.
It is recommended to use the most recent version of the according VM software.
The IACBOX is a realtime system. Therefore it is critical to only assign and use ressources which are capable of working within the same operational context. For example: If a VM cluster is used, only the CPU cores of one socket may be used for the IACBOX to avoid rapid context switching between multiple sockets, which would lead to intolerable delays and possible system faults.
Uploading the Installation Medium¶
For Proxmox a ISO/CD-based medium is required. Choose local (pve), Content, Upload

Network setup¶
The network architecture of the VM host is essential to provide a good integration of Office-LAN and Surf-LAN. Therefore pay attention to the network integration of this installation. Further information regarding network integration can be found in the according manual First Steps

Installation¶
Select Create VM and configure it with the following defaults.
Select Linux 4.x/3.x/2.6 Kernel in the OS tab.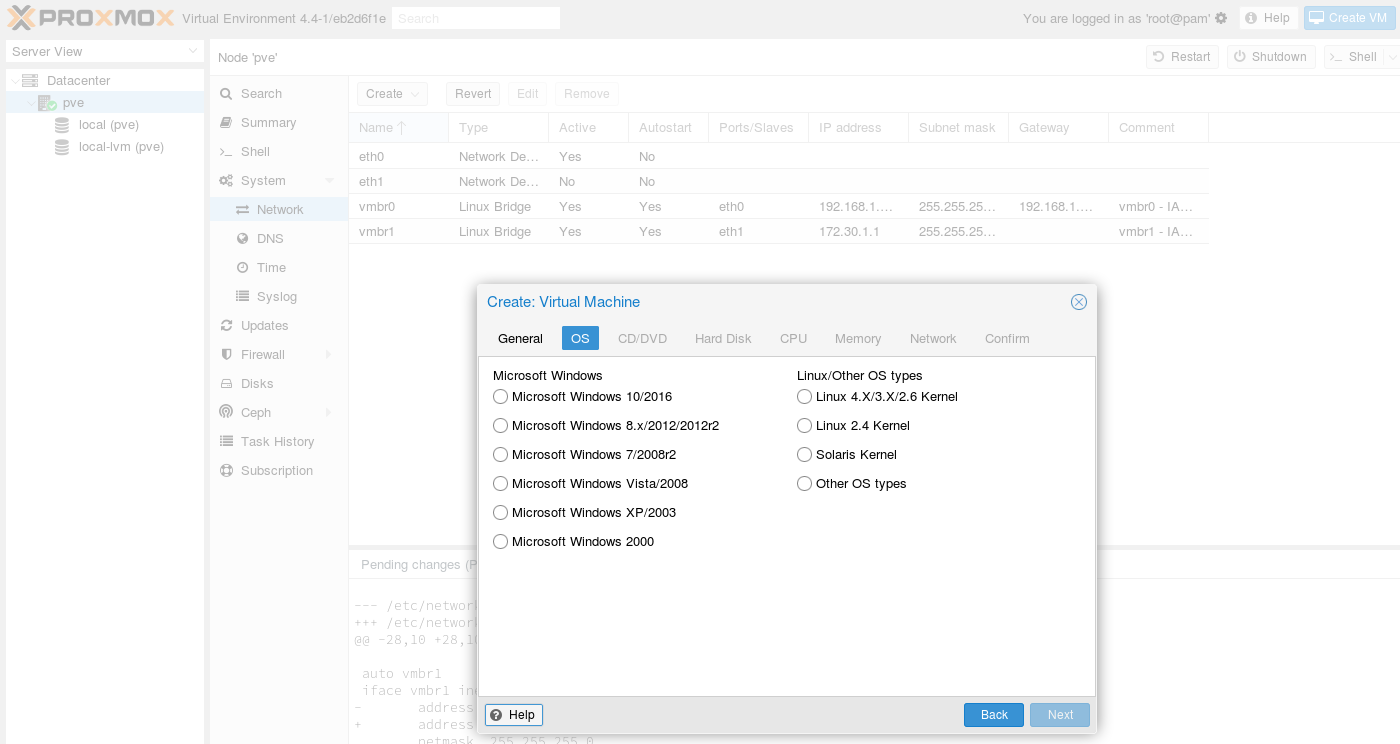 In tab CD/DVD select the installation medium which was mentioned in the first step of this manual.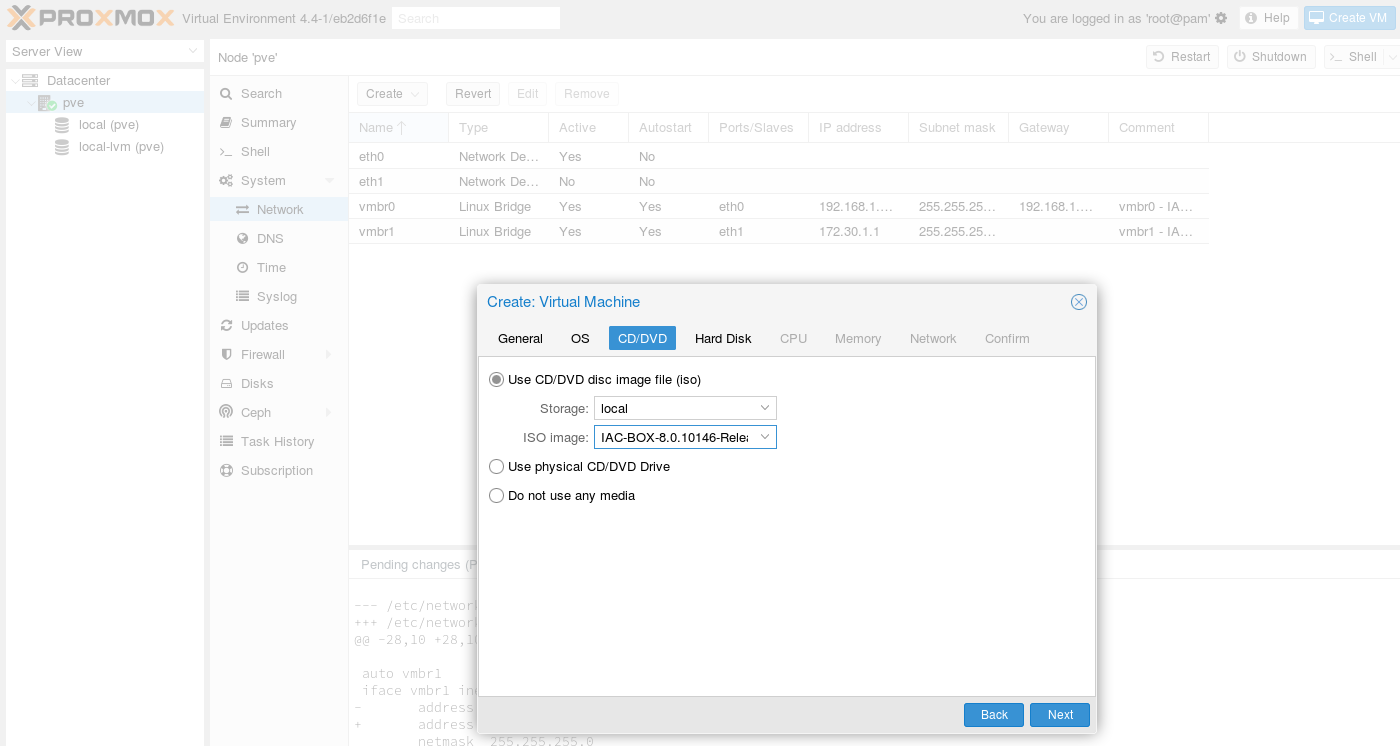 In the tab Hard Disk you can create a new disk for the IACBOX.
Important: Using the VirtIO bus is essential as described on top of this manual.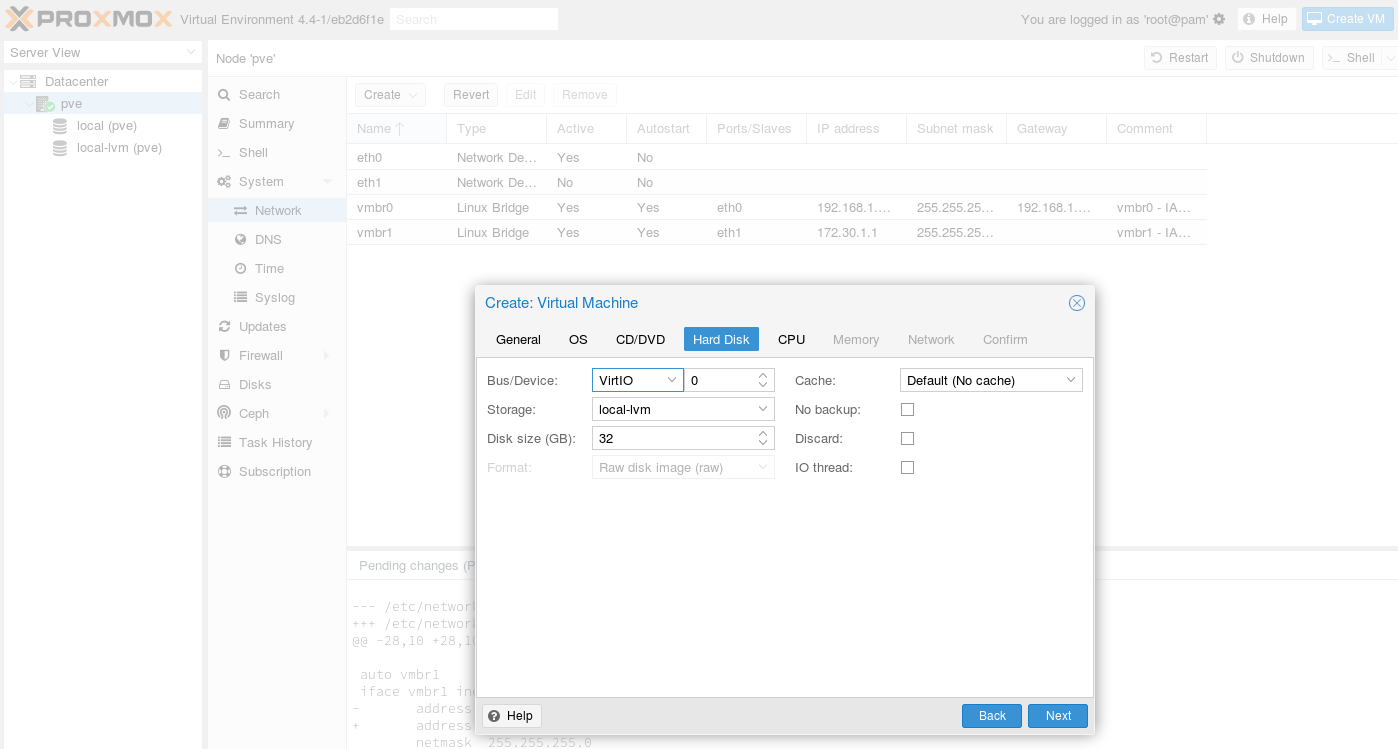 The CPU and Memory settings must be configured according to the minimum hardware requirements which can be found on top of this document - or better. The Hardware Requirements can be found here: Hardware Requirements page.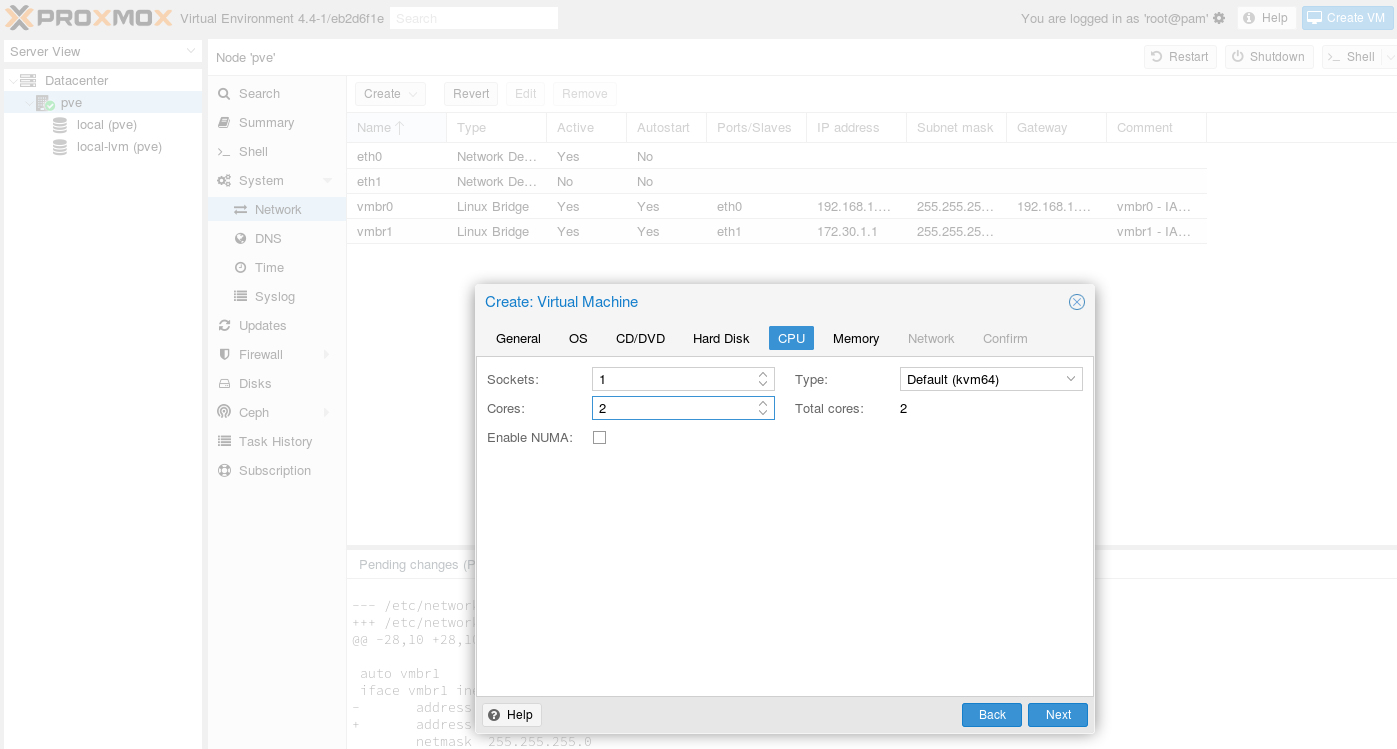 Configure the Memory according to the Hardware Requirements.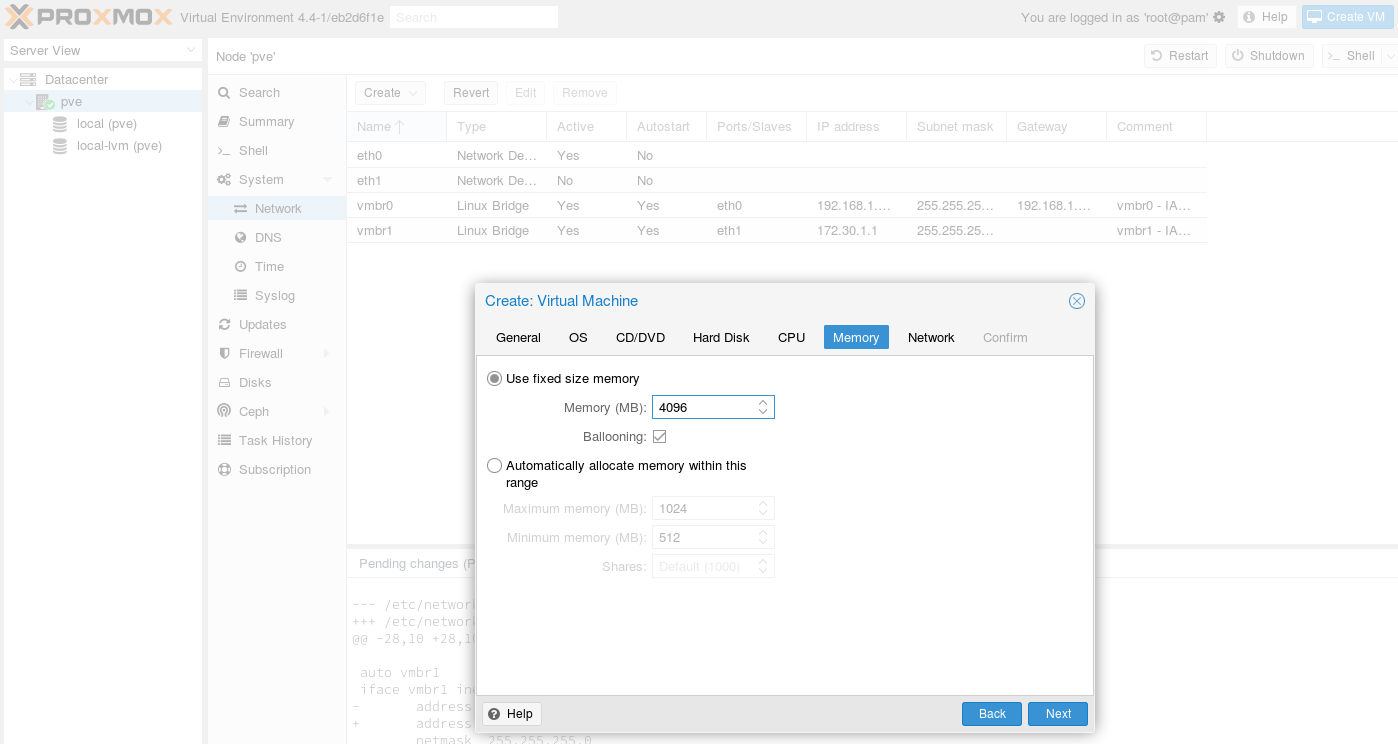 In the Network tab configure the virtual interfaces according to your requirements. Note that the IACBOX will require two interfaces, the Office-LAN and the Surf-LAN. While the Office-LAN is bridged to the uplink of the host system (according to the screenshot), the Surf-LAN can be configured as an isolated interface later on.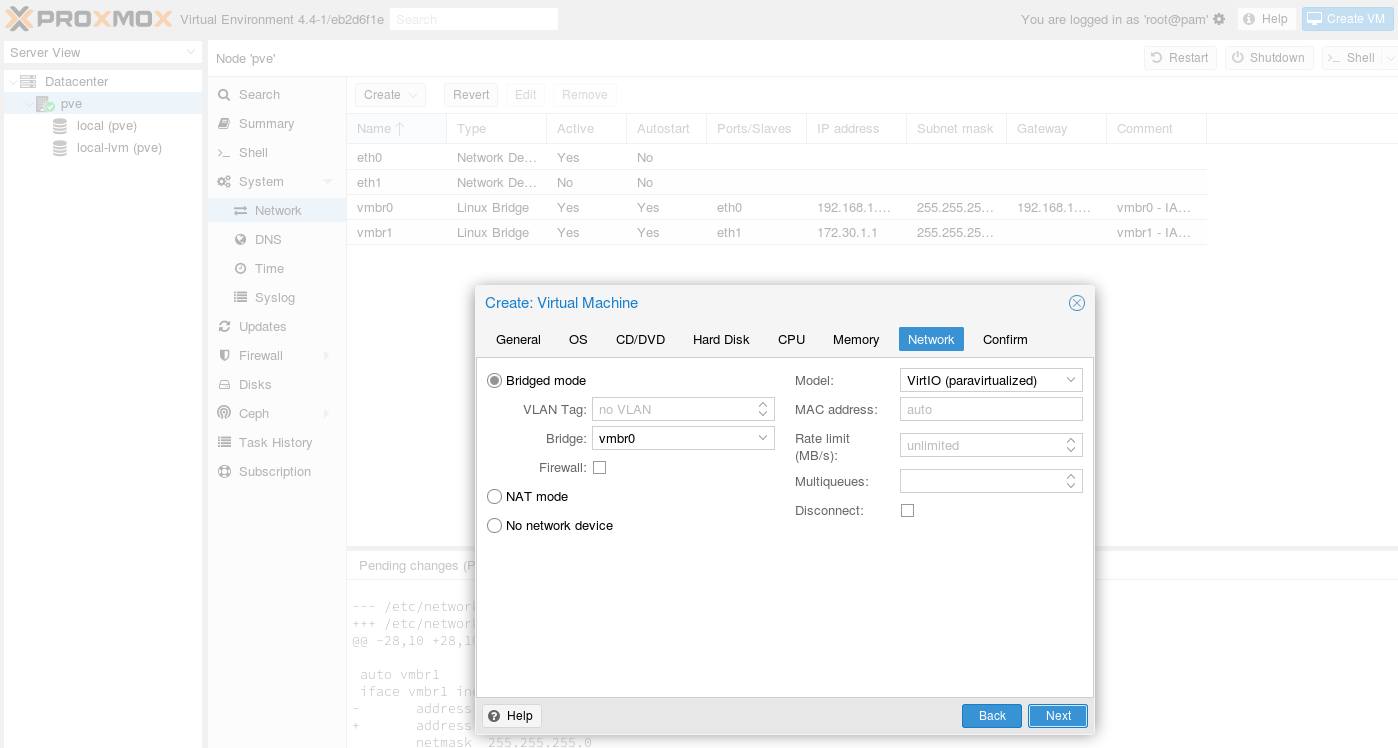 The last step is a summary of all the entered data above. Confirm it with Finish.
Surf LAN Interface¶
At last a second adapter must be added for the Surf-LAN. Therefore select the VM and then click on Hardware, Add and then Network device.

The bridge interface is called vmbr1 and the network device model is VirtIO.