The Privacy Toolkit enables you to create automatic reports of accesses, permissions and data usage on your IACBOX, depending on what modules are currently activated. The according WebAdmin menu can be found at Settings / Privacy Toolkit.
Hint
The Privacy Toolkit module can be bought for all IACBOXes version 17.2 and patchlevel p12221 or newer. If the Privacy Toolkit setting is not available on your IACBOX, perform the Online Update.
In this tab you can enable/disable privacy related system health notifications. Below this setting, the current configuration status of privacy related settings can be examined.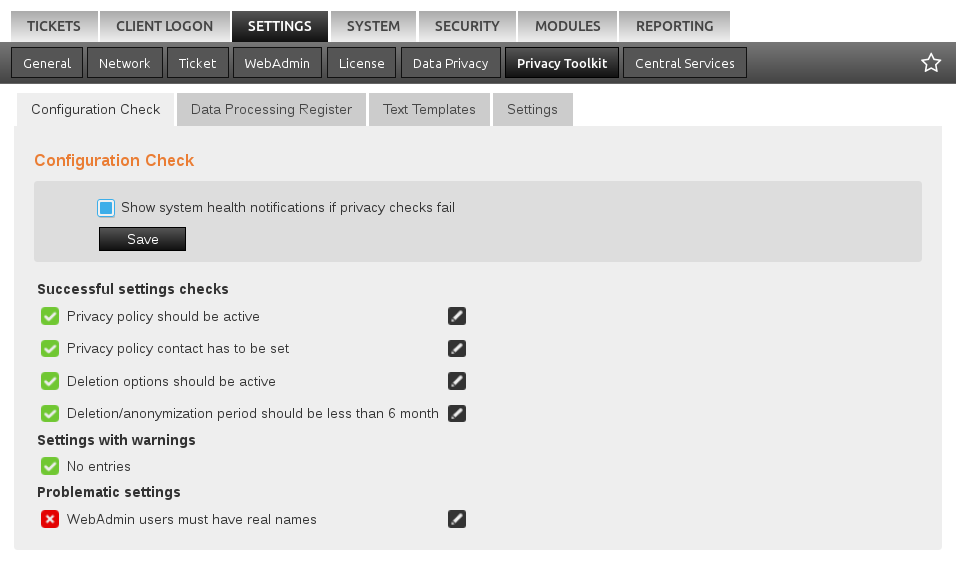 The Data Processing Register allows you to add text segments to the automatically created report. Besides the Language and Company Address these segments can be added for a multiple purposes:
Custom backends and/or plugins are in use: The primarily use for this option is to name external backends which receive data via a third party Login API plugin - or any other custom implementation of the available IACBOX interfaces.
Purpose of Connection Tracking: E.g. hospitals or government institutions do require connections to be tracked. If you do track connections in other environments, you must add a sufficient reason to do so.
Used web-tracking and advertisement platforms: For example if you use any external data-processing services in combination with the IACBOX Logon Page or Login API, you can list them here (e.g. Google Analytics, etc.).
Information is exported to third parties or countries outside the EU: E.g. if data is being sent to Facebook Inc or Google LLC, depending on what modules or third party services are used on your IACBOX.
Add additional text to the report: Just for additional text, also allows you to add custom headlines to the final report.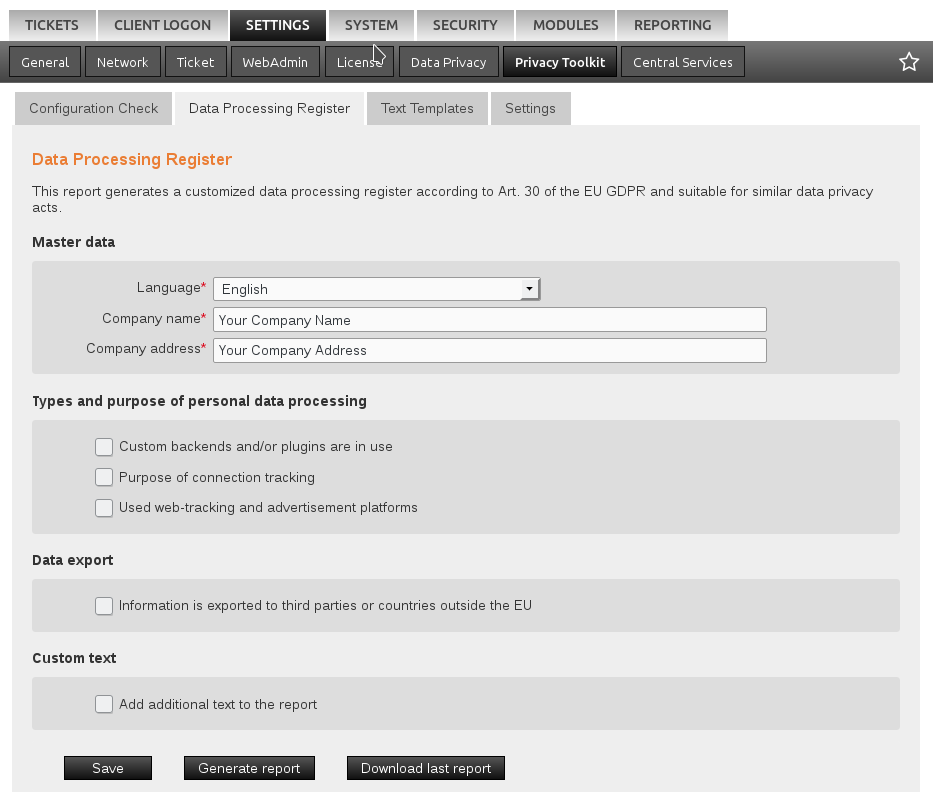 At the bottom of this page you can Generate and/or Download Reports!
This WebAdmin page holds all available documents you might require.